SharePoint is an enterprise document management, content management and collaboration platform with robust custom application and business workflow hosting and management infrastructure.
SharePoint is now in its fourth version and it has matured over the past decade. Its first version SharePoint Team Services (STS) and SharePoint Portal Server (SPS) 2001 provides an application for team and portal implementation.
Its second version, Windows SharePoint Services (WSS 2.0) and SPS 2003 improved on the first version but it was not until the release of WSS 3.0 and Microsoft Office SharePoint Server (MOSS) 2007 that SharePoint starts to gain wider adoption in the developer community and enterprise alike.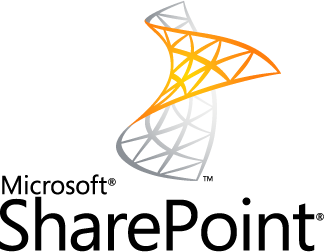 MOSS 2007 offers a robust platform for enhanced custom solution that could leverageworkflow, web content management, rich content model and search to mention a few but it fall short on enterprise content management, social, compliance and taxonomy.
With the release of Microsoft SharePoint Foundation 2010 and Microsoft SharePoint Server 2010, SharePoint is now considered a true and leading enterprise content management system. It also delivered some compelling features such as:

Content Organiser >

FAST Search >

SharePoint Workspace >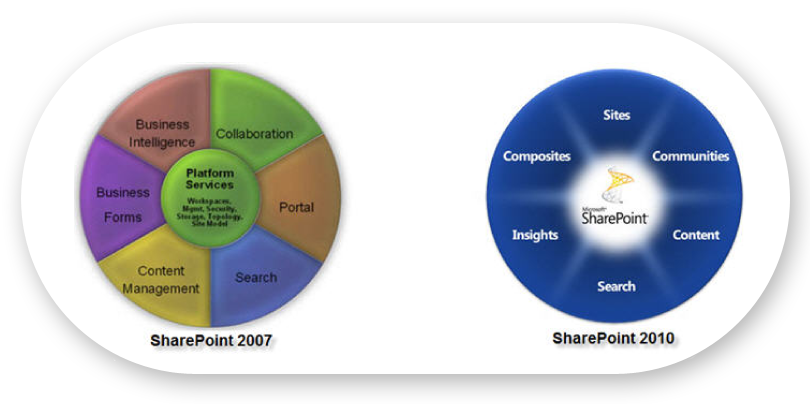 The six high level SharePoint 2010 product capabilities shown in the diagram above provide the followings capabilities:
Sites: SharePoint Sites deliver a single infrastructure to provide portal and collaboration capabilities across intranet, extranet, and internet sites. It also brings users together to share information, data, and expertise across organisation.

Communities: SharePoint Communities empower people to work together in the most effective ways. SharePoint Communities make it possible for people to collaborate in groups, share knowledge and ideas, connect with colleagues, and find information and experts easily.

Content: SharePoint Content enables all users to participate in a governed, compliant content management lifecycle. SharePoint Content makes it possible to expertly balance user experience with policy and process.

Search: SharePoint Search gives users the ability to find the content, information, and people they need by combining an integrated, easy-to-manage platform with best-of-breed enterprise search technology.

Insights: SharePoint Insights enables users to access and interact with information across unstructured and structured data sources. It also empowers users to discover the right people and expertise to make better and more agile business decisions.

Composites: SharePoint Composites empower users to respond rapidly to business needs by creating their own no-code solutions, on premises or in the cloud, through a rich set of building blocks, tools, and self-service capabilities.
Enterprise can develop solutions on SharePoint 2010 platform by leveraging its:
Connect Feature >

Extend Feature >

Build On Feature >
At Fountain Information Technology, we leverage SharePoint 2010 Connect, Extend and Build On features to harness the power of each of the six SharePoint capabilities. Hence we deliver the followings SharePoint services:
Installation of SharePoint Server (MOSS 2007 and SharePoint 2010)

Microsoft SharePoint Server patching and upgrade

Microsoft SharePoint Server administration & support

Migration of legacy document management and web content management system to Microsoft SharePoint Server

SharePoint Server branding and customisation

Development of custom application on SharePoint Server

Development of business critical applications on SharePoint Server

Implementation of business process workflow on SharePoint Server